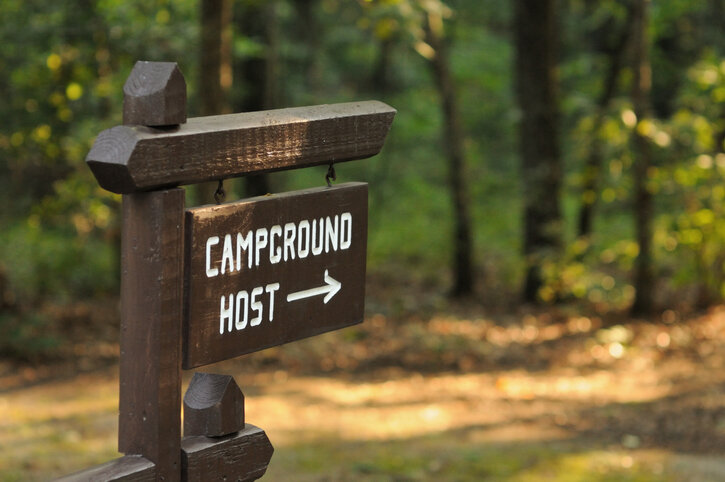 BECOME AN RV CAMPGROUND HOST AT TANGLEWOOD PARK!
Volunteer Campground Hosts have come to be viewed by campers as standard amenities in campgrounds, rather than extra attractions. Hosts are friendly, responsible, and experienced campers who provide valuable assistance to our park employees, and important services to our campers, while enjoying free the entire season (March through the 1st weekend of December).
The Volunteer RV Campground Host Program was developed to increase the level and quality of service that Forsyth County Parks & Recreation visitors and campers receive at Tanglewood Park's RV Campground. Hospitality is the most important function of our hosts. The hosts extend a warm welcome, maintain a friendly presence in the campgrounds, and provide answers to questions regarding park activities, amenities, and local attractions. Hosts contribute their volunteer services with the goal of assuring our visitors a comfortable and enjoyable stay while enhancing the quality of their outdoor recreation experience.
We would love for you to apply to become a volunteer RV Campground Host at Tanglewood Park for the season! Before applying, please view our Host Policies for important details and guidelines.
Once you have reviewed the Host Policies, please CLICK HERE to view the application. The application must be printed, filled out completely, and signed. Applications can be scanned in and e-mailed to rvcampground@forsyth.cc or sent via regular mail to:
Tanglewood Park
Attn: Welcome Center
4061 Clemmons Road
Clemmons, NC 27012
Tanglewood Park is a Forsyth County owned and operated 1,100-acre park. The park offers so much to the campers and patrons that visit each day. There are pedal boats for rent at Mallard Lake, and banks perfect for fishing on Mallard and Skilpot Lakes. We offer BMX tracks, blooming gardens, tennis, and horse stables, along with several miles of mountain bike, nature, and multi-use asphalt trails throughout the park.
The park also features an Aquatic Center with a kiddie pool, lap pool, winding tubing river, fun slides, and splash pad playground all perfect for those hot, summer days. You can visit our driving range to brush up your skills, then play a round at one of our 18-hole golf courses—the Tanglewood Championship Course, Tanglewood Reynolds Course, or Par-3 Course.
Those are just a few of the park's many attractions and amenities. Tanglewood Park has many other activities and events, making it the perfect North Carolina adventure!
Please feel free to call the Welcome Center at 336-703-6400 with any questions.
We look forward to seeing you at the park!
Rules & Regulations
Cancellations made within 14 days of scheduled check-in are subject to a penalty equal to one (1) days reservation fee.
Tanglewood Park News & Events